Australian Arms Museum welcomes Year 1 of Holy Spirit
05 Nov 2014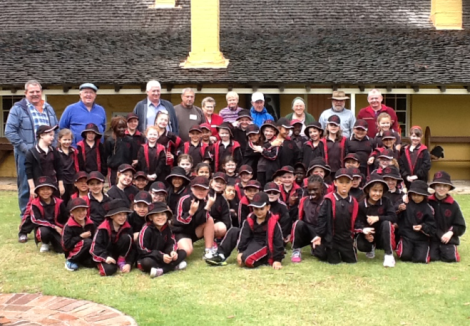 On Wednesday 15th October 2014, Year 1 went to the Australian Arms Museum at Emu Plains.
We acknowledge the expertise of our bus driver, Ray from Compass Bus Lines and thank him for getting us there and back safely.
The volunteers at the Museum were fantastic - so patient with the children and they made our day wonderful. Thank you.
"I got to see a Morse Code machine, telephone and typewriters. I saw an old school bag, Captain Cook's ship model and Aboriginal spears" said Izaac.
"At the washing board, I was washing the clothes. The pegs are called dolly pegs". Ashleigh commented.
"I played the pianola. I pushed the pedals with my feet" Mikayla exclaimed.
Breeana said "The bus was a double decker and Bus Driver Ray was a good driver. I was up the top and I could see everything".
"I sent a message in Morse Code" Marko said proudly.
"I made butter but it took a long time to make" Ryan reported. "I put cream in the machine and turned the handle".
"I went in the carriage. It was very high" Suhavi cried.
"In the old classroom, I wrote with slate. It made a scratchy noise" Brianna remembered.
Facebook
08 Dec 2023

Year 6 have been studying the artworks of Frederick McCubbin, a famous Australian artist from the 1800s. They are using different techniques, including watercolours to recreate his famous work "The Lost Child' 👨‍👩‍👦