Sport
School and representative sports pathways.
Sport is an integral part of the PDHPE curriculum, which promotes fitness and a healthy lifestyle.
All Holy Spirit Primary students are involved in weekly sport and/or physical education lessons.
At Holy Spirit we aim to:
make sure all students participate in supervised school sporting activities
engage parents by informing the parents of any proposed inter-school sporting activities
allow students to represent the school in a variety of sports whenever possible, provide training by experienced teachers or parent volunteers for those students representing the school in any sport
make students aware of the importance of regular exercise and a healthy diet in their lives.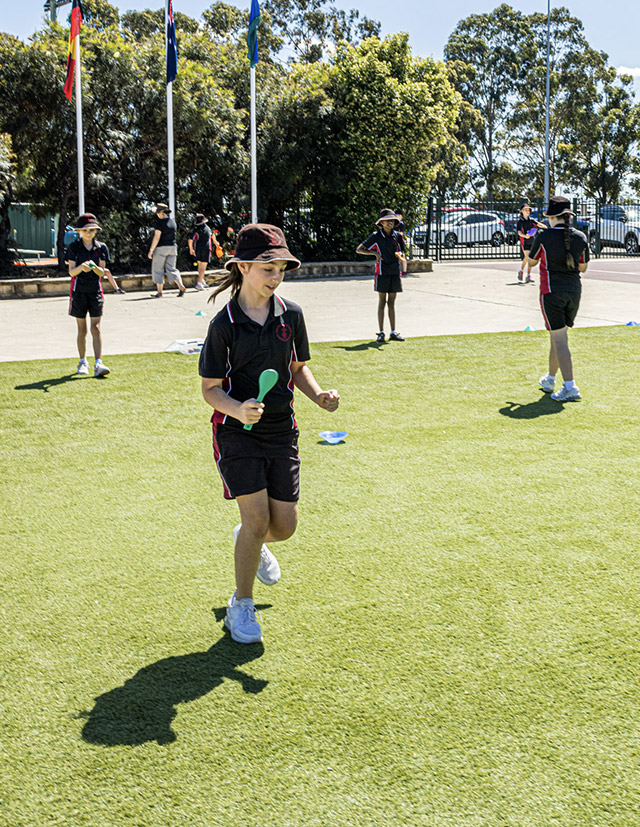 School sport provides opportunities to experience new games and sports, develop talents in sports and recreation activities.
Sports carnivals and representative sport
---
In addition to weekly school sport, Holy Spirit students have the opportunity to participate in Cross Country, Swimming and Athletics Carnivals, which are held annually. Students are selected from these events to represent the school at combined school events and have the opportunity to progress and further represent at Diocesan and State levels.
Gala days provide an opportunity for students to try out for various team sports, such as Netball, NRL, Soccer, Touch Football, Gymnastics and Basketball. Participation in gala day events fosters sportsmanship, as well as assisting in the development of skills.
Holy Spirit house system
---
The annual Athletics Carnival is an opportunity for inter-house competition, with the emphasis on the importance of participation and teamwork. Students of all athletic ability are encouraged to support their House Groups in colour, song and event participation; be it as a competitor or a supporter.
Our four house groups are:
Named in honour of the Reverend Samuel Marsden, a local magistrate and pastoralist. Through his work at Mamre Farm, Samuel Marsden pioneered the Australian wool industry by importing and breeding Merino sheep.
Named in honour of William Lawson, pastoralist and explorer, who in 1813 along with Blaxland and Wentworth, discovered a passage through the Blue Mountains from Sydney.
Named in honour of Caroline Chisholm, one of Australia's greatest women pioneers. Known as the 'Emigrants' Friend', Caroline Chisholm is remembered for her humanitarian work with emigrant families, young women and rural families.
Named in honour of Sarah 'Fanny' Durack, who was Australia's first female Olympic gold medallist. Sarah Durack broke the world record and won the 100 yards Freestyle event at the 1912 Stockholm Olympics.
More about learning at Holy Spirit