GRIP Leadership Day
26 May 2018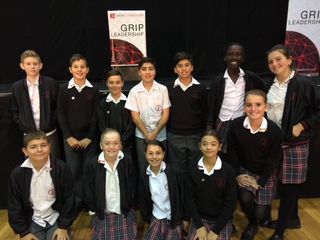 On Wednesday, 23 May, our school leaders had the opportunity to attend the GRIP Leadership conference, a course that concentrates on training students for their roles as school leaders.
The theme for this year was "Transformers", with the emphasis being that any student is capable of being prepared to lead, or capable of "transforming" into a leader. The Transformers action figures and cartoon characters were used to guide our students. They are great examples of being prepared to lead, with each one knowing how to activate their unique abilities to be helpful in different situations. During the sessions our children learnt about the importance of integrity and ways for introducing change.
Below are some quick reflections from each of our leaders about some aspect of the day:
Simple changes that I make can have a big effect on others. - Christian
Being kind, not mean would change the world a lot. - Isabella
Leadership isn't just a position, it's an action. - Rheana
There are many ways to be a leader, not just one. - Sienna
A watermelon leader is a person who appears different on the outside. A strawberry leader is a person who is the same on the inside and the outside. - Isabella
Be a strawberry leader not a watermelon leader. - Adeng
Simple changes that leaders make can positively change our school. - Ellie
Leaders need to show they care, take action for good and have a positive attitude. - Curtis
Good leaders have to have a positive attitude, care for others and show good actions. - Ben
When you are a leader you don't have to take action if you believe the idea is not good. - Dominic
The best part of the day was when the presenters did a role play. They used three people and one funny gardener. It was hilarious and the play explained what "integrity" meant. - Connor
At Grip Leadership today we met leaders from other schools. At first it was hard to talk to them but as the day progressed it got easier. I met a lot of new people. It was "berry" fun. - Adam
Thank you to Mrs Figuero for organising for the children to attend this course, as well as supporting them with their work during this conference.
Facebook
08 Dec 2023

Year 6 have been studying the artworks of Frederick McCubbin, a famous Australian artist from the 1800s. They are using different techniques, including watercolours to recreate his famous work "The Lost Child' 👨‍👩‍👦