Holy Spirit learn social justice lessons through PBL
13 Jul 2015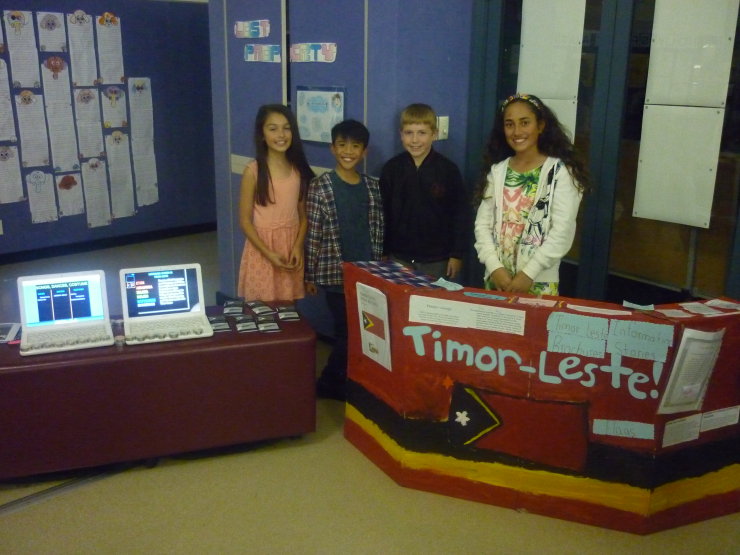 From left to right: Jada Thomson Year 5, Tyrell Yco Year 6, Austin McKinder Year 5, and Alana Benedito Year 6.
On 24 June, Year 5 and 6 students from Holy Spirit Primary St Clair held a cultural exhibition to raise awareness for the plight of the people of East Timor.
Students created 26 cultural exhibits which included dressing in traditional clothing, singing in the East Timorese language of Tetun, providing samples of Timorese dishes and delivering presentations.
Many students also took the initiative to have donation boxes which raised over $250 for East Timor Teacher Placement Program to purchase much needed teaching resources. In this program experienced teachers from the Dioceses of Parramatta and Broken Bay spend time in Same, East Timor, sharing their training and experience with Timorese teachers.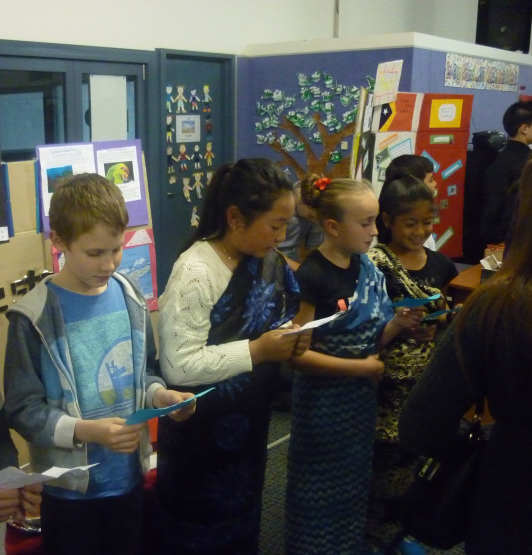 Students dressed in typical Timorese outfits. Students from left to right: Chris Grant Year 6, Dionne Morales year 5, Elise Robertson Year 6, and Ariane Garcia Year 5
Attendees at the exhibition included former Principal of Holy Spirit Primary who initiated project based learning (PBL) at the school in 2013, Michael Tonnet, current Principal Anne Hines, staff and over 200 parents. Coordinator of the East Timor Teacher Placement Program for the Parramatta Diocese, Kate Owens, also joined the event.
Holy Spirit Stage 3 Coordinator, Donnalee Hughes, said she hoped that Kate would pass on the message to the people of Same, East Timor, that Holy Spirit students are actively learning about the Timorese culture.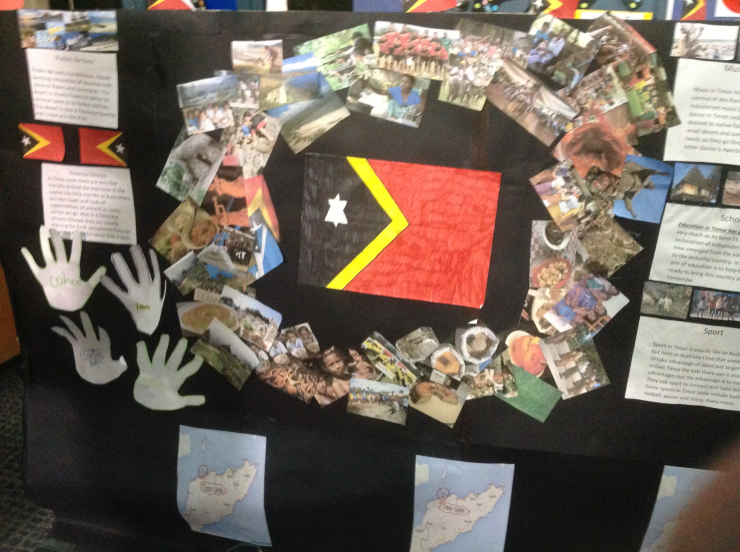 A group display of the story of Timor through photos.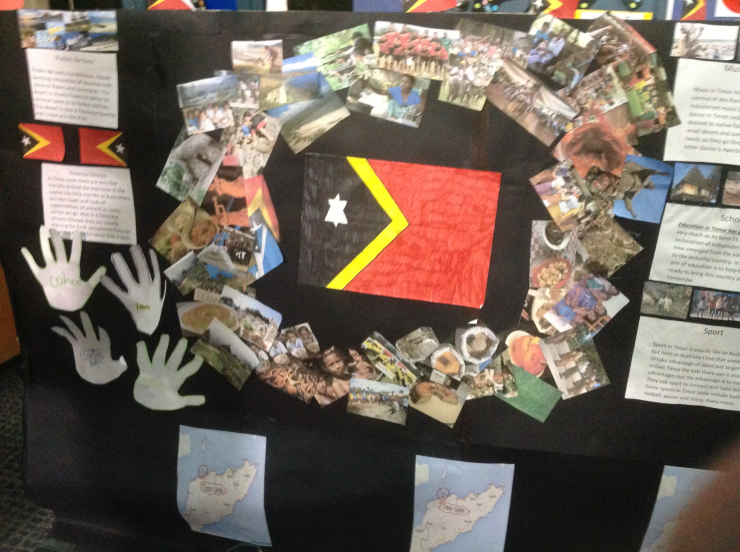 'The students feel particular pride in being able to explore East Timor and present their hard work to such a large audience,' Donnalee said. 'Holy Spirit Primary is pleased to provide the opportunity for each grade or stage to present to a public audience at least once each year as part of its learning and development program.'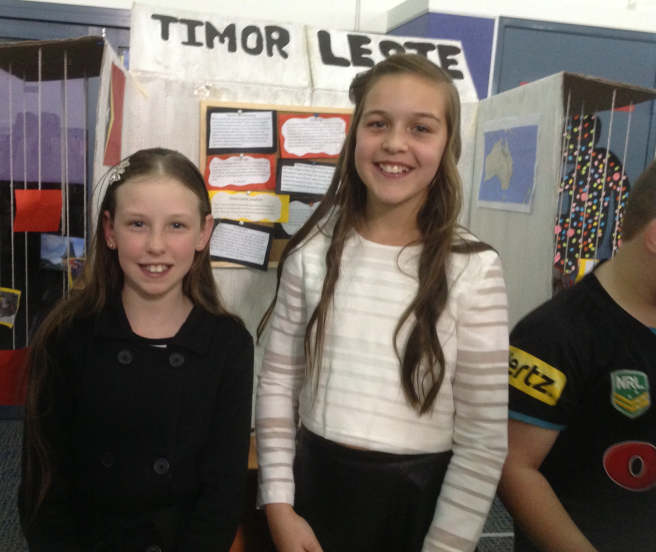 Mikayla Rolls Year 5 and Alexa Kenny Year 6 dressed in black and white style professional dress which is similar to the dress style of hosts at a travel expo. The display behind them was painted white and the information was displayed in Timor colours.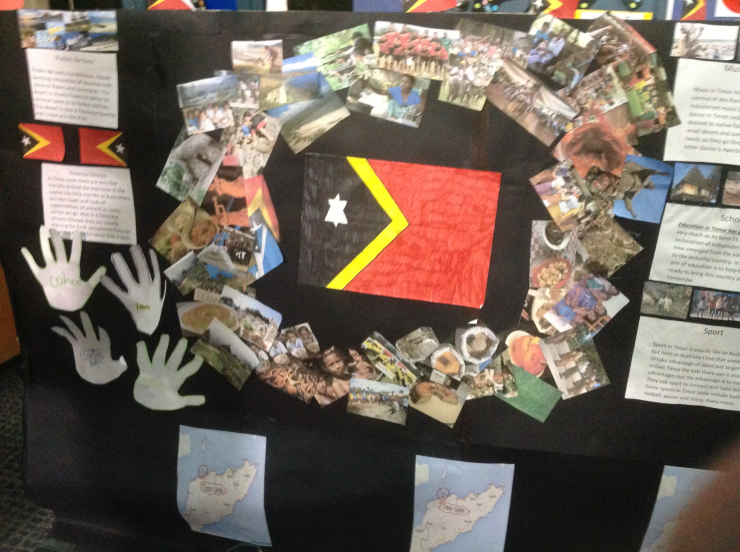 Principal Anne Hines said that in PBL students are guided through various areas of the curriculum by a meaningful question to explore, an engaging real-world problem to solve and a challenge to design and create something.
'Presenting their work as part of an exhibition provides the students with a purpose and audience for the learning,' Anne said. 'Presenting to a public audience is one of the eight essential elements of project-based learning.'
'It was a wonderful experience to see how much the students knew and how impressed the parents were by their compassion and understanding of the problems of East Timor,' she said.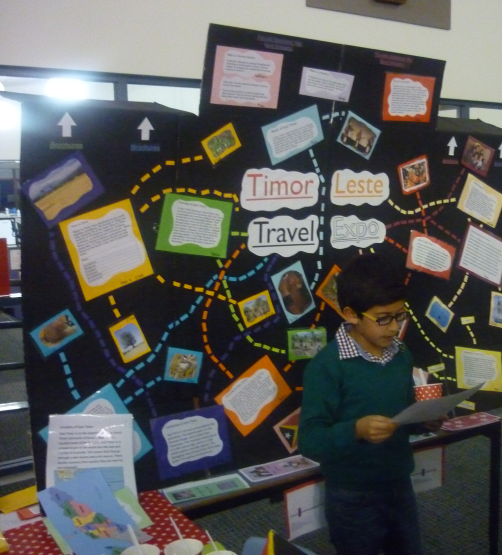 Year 5 student Theo Seliman delivered his report in a speech and offered a rice dish for visitors to try.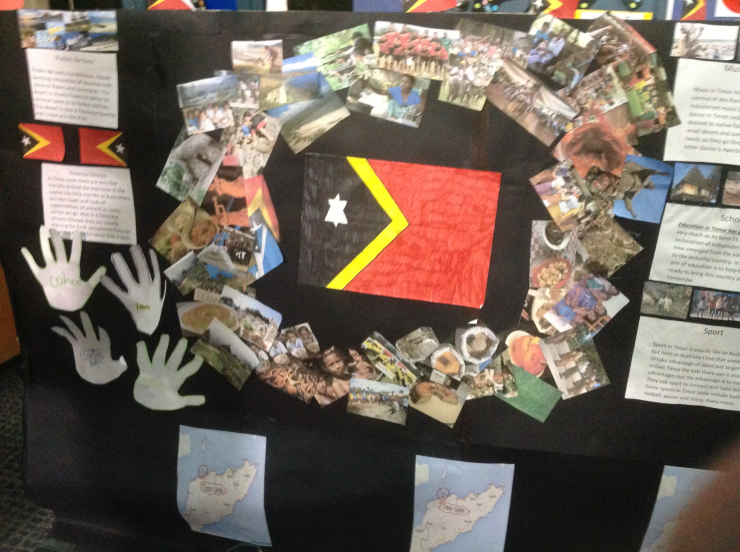 Parent, Jessica Aldag said she was impressed to see the types of projects the students were involved in.
'They learnt the language, completed creative and informative posters and knew so much about Timor,' Jessica said. 'I am very impressed.'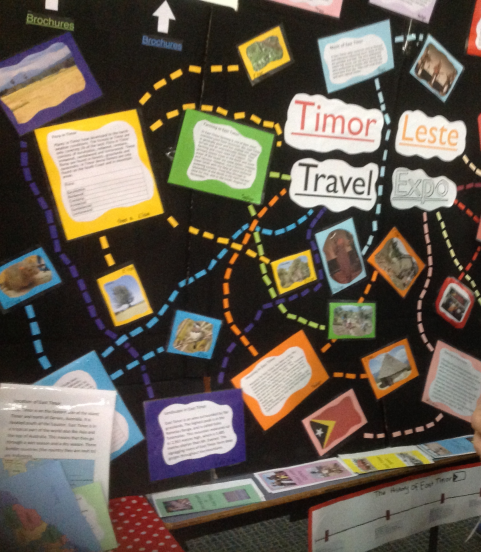 Year 6 group display used coloured, dotted trails like maps to mark a route, used to formulate the display.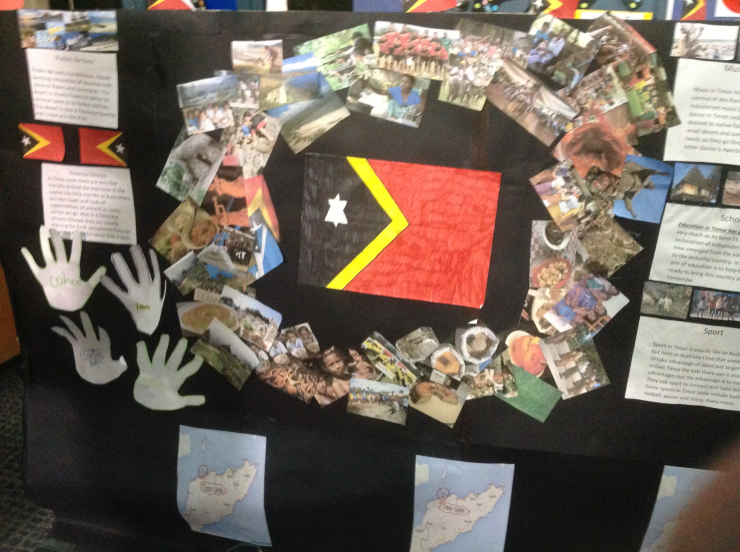 Parent, Audrey McKinder said the school's approach to PBL encouraged students to learn in depth at their own pace.
'It's great to see students so excited to learn,' Audrey said. 'It builds great foundations for lifelong learning.'
Facebook
08 Dec 2023

Year 6 have been studying the artworks of Frederick McCubbin, a famous Australian artist from the 1800s. They are using different techniques, including watercolours to recreate his famous work "The Lost Child' 👨‍👩‍👦