Unique Music Offering at Holy Spirit
03 Aug 2015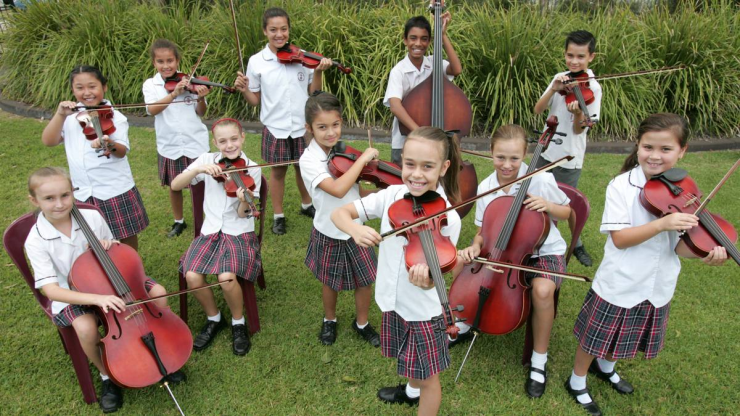 Holy Spirit Students and their string instruments
Holy Spirit Primary School St Clair is fortunate to offer a unique music program to their primary students.
The ensemble program is in its third year and allows Year 3 and 4 students to play instruments such as violins and cellos — which not many schools are set up to teach — without the cost of purchase or private tuition.
Mr Glenn Green, Music Teacher at Holy Spirit, says interest has grown since the program's inception. "Parents are grateful that their child has the option of learning a musical instrument within the school at an affordable price and some students select to participate in additional lessons which are offered to small groups of students in Years 3 to 6".
Students also have the opportunity to perform at school assemblies and masses. Year 5 student Jada Thomson plays the viola in the school's string ensemble. She says these are opportunities to share with the wider community. ''It's fun and exciting,'' Jada said. ''The viola is bigger and has more strings than the violin. I like the strings and the sound of it. It's slow and relaxing.''
Research states that the consequence of children who study music is accelerated learning in other academic subjects. If a child studies music constantly over a period of time, they do better in school in many ways, including academically and socially. The earlier a child begins studying music, the more the child's brain growth will be influenced.
Principal Anne Hines says "Our school recognises the unique learning path that each child takes whilst providing a rich array of stimulating experiences for students."
Facebook
08 Dec 2023

Year 6 have been studying the artworks of Frederick McCubbin, a famous Australian artist from the 1800s. They are using different techniques, including watercolours to recreate his famous work "The Lost Child' 👨‍👩‍👦