Emmaus Village residents visit Holy Sprit
31 Oct 2014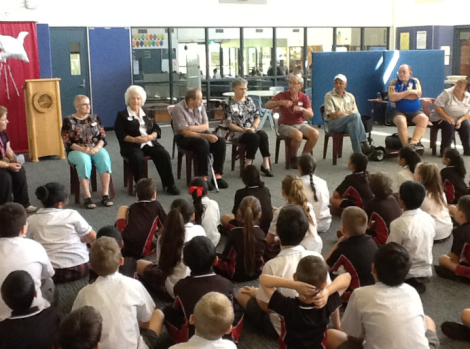 Emmaus Village residents visit
On 29th October residents from the Emmaus Village came to visit Year 1 and Year 4 students, to talk about what life was like for them when they were at school.
This was a great opportunity for the children to show love and care to others, just as Jesus asks of us.
Barry, Errol, Greg, Betty, Diana, Joyce, Serge and Nurse Jo enjoyed answering the children's questions. They also visited some classrooms and had morning tea.
The Year 1 and Year 4 Teaching Teams thank the residents for making the day wonderful and we hope you visit again soon.
Facebook
08 Dec 2023

Year 6 have been studying the artworks of Frederick McCubbin, a famous Australian artist from the 1800s. They are using different techniques, including watercolours to recreate his famous work "The Lost Child' 👨‍👩‍👦