Holy Spirit celebrates School Feast Day
25 May 2015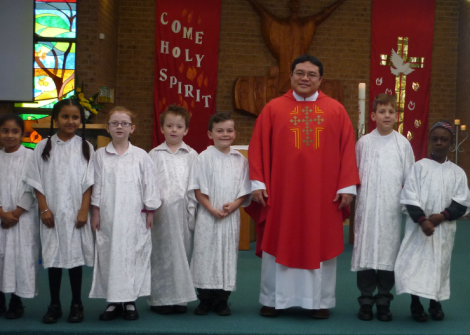 On Thursday 21 May 2015, Holy Spirit Primary School celebrated the Feast of Pentecost with a whole school mass.
Pentecost is celebrated on the 50th day after Easter and commemorates the birth of the church when the Holy Spirit came down on the disciples gifting them with courage, power and zeal to spread the Good News that Jesus had risen from the dead and is alive!
Songs, such as "Sing to the Lord with Shouts of Joy" and "Holy Spirit Rock" were performed during the mass by the school choir and coupled with the participation of those assembled further added to the celebration of the school and parish feast day.
The whole school community participated in this prayerful celebration led by Father Jepser, with many students taking part in readings, the Gospel and Offertory processions and concluding with a liturgical movement focusing symbolically on the power of the Holy Spirit.
The Holy Spirit Parish will celebrate the Feast of Pentecost on the weekend of 23rd & 24th May 2015 at Holy Spirit Church.
Facebook
08 Dec 2023

Year 6 have been studying the artworks of Frederick McCubbin, a famous Australian artist from the 1800s. They are using different techniques, including watercolours to recreate his famous work "The Lost Child' 👨‍👩‍👦