Year 1 visits Australian Arms Museum
06 Nov 2015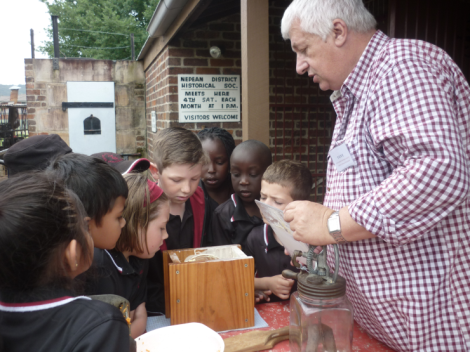 On 22nd October 2015, Year One visited the Arms Museum at Emu Plains to enrich their learning about life from days gone by.
We thank the volunteers there who allowed our students to play old games, use a push mower, experience school life, churn butter, wash using a board and use dolly pegs. The students also typed on a manual typewriter,spoke on an old phone and so much more.
The weather was kind to us until we had to go to the bus. Then the heavens opened! A special thanks to Ashley, our bus driver from Compass Tours. He drove with great care and carried all the students things back to the bus in the driving rain.
Thanks Ashley.
Year One Teaching Team
Facebook
08 Dec 2023

Year 6 have been studying the artworks of Frederick McCubbin, a famous Australian artist from the 1800s. They are using different techniques, including watercolours to recreate his famous work "The Lost Child' 👨‍👩‍👦